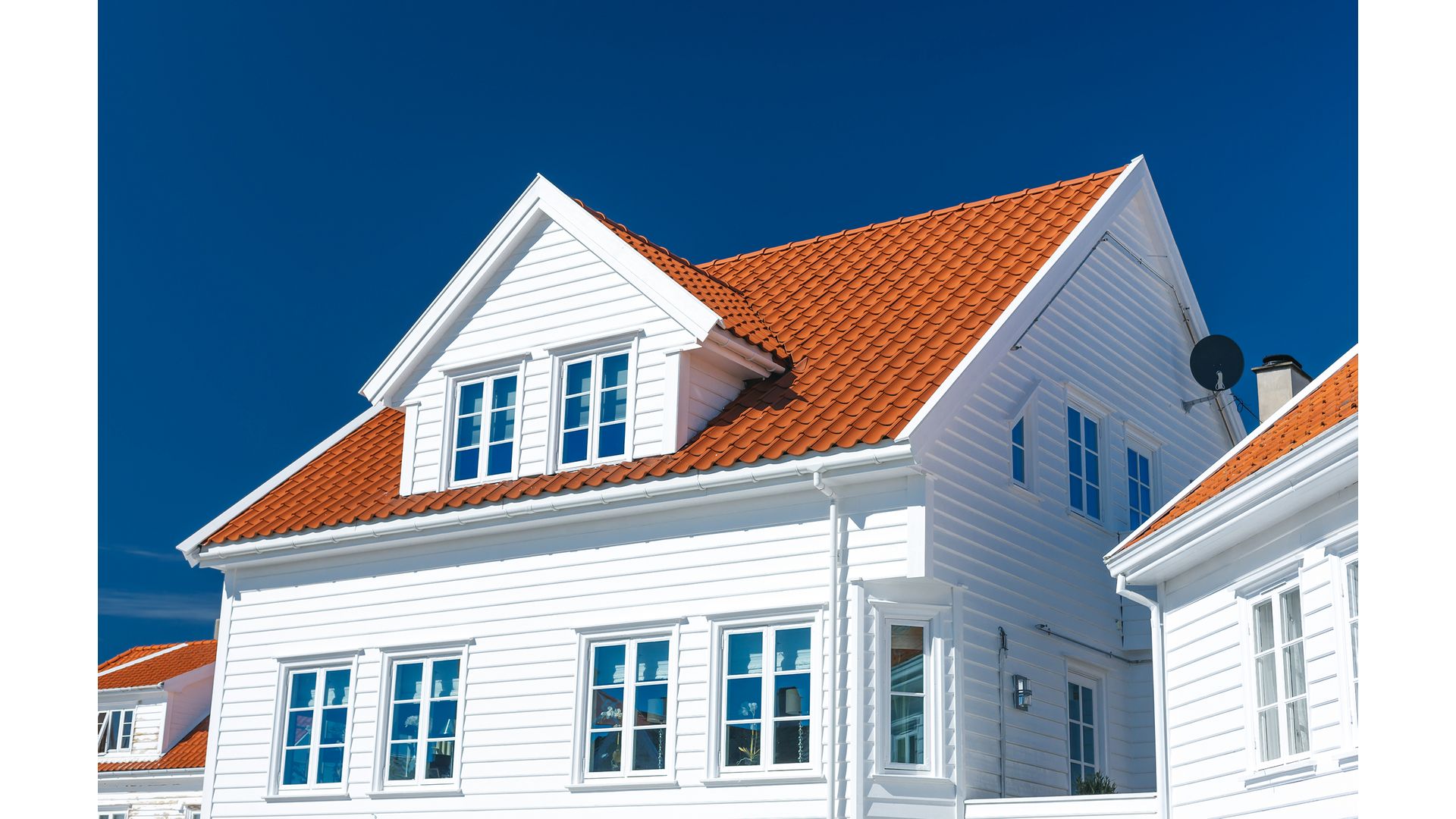 Why aluminium clad windows are maintenance-free
Table of content
Development has gone quickly, and today wood/aluminum or aluclad windows and doors have become a particularly popular choice. Below you can find out why, and get useful knowledge so that you can better decide whether you want to invest in wooden/aluminium windows and doors cost, compared to traditional wooden windows and doors.
What are wooden/aluminium windows?
Wood/aluminum windows consist of a combination of the best from both wood and aluminium. The inner part of the element consists of wood from slow-growing pine. It is almost maintenance-free, has a high insulating capacity and a natural impregnation. The outer part consists of powder-coated aluminium profiles that protect the wood 100% against UV radiation, wind and weather.
Here you see the difference between a wooden/aluminium window on the left and a wooden window on the right.
The small visible differences between the windows
Our wood/aluminum products are mitre-cut (left), which means the bottom and side of the window come together in a harmonious "oblique" line from corner to corner. Pure wood products have a vertical cut. There is therefore a difference purely in terms of appearance, and wood also has a more rustic surface if you get up close and closely study the surface. 
Advantages and disadvantages of wooden/aluminium windows
There are a number of advantages to wooden and aluminium windows. There are very few - if you can say any - disadvantages.
Since the inner part of the window or door consists of core pine wood, the insulating properties of the wood are maintained, while the powder coating of the external aluminium profiles gives the elements a particularly durable and extremely weather-resistant surface. Aluminium is a strong material that cannot rust. The light metal protects the wood from sunlight and rain, and therefore wood/aluminium also requires very little maintenance compared to pure wood.
Advantages
Almost maintenance free 

Natural impregnation 

FSC-certified pine wood from responsible forestry

Highly insulating

Does not need to be painted on the outside

Aluminium blocks UV rays and protects the window

Suitable for Danish rain and windy weather

Mitre-cut glass moulding (design)
Disadvantages
Wood and aluminium is typically a bit more expensive than the pure wood alternative

If you really love the raw wood look there is very little visual difference.
The advantages of aluclad windows are many. You will soon be glad that they are largely maintenance-free, as they do not need to be painted on the outside. The combination of wood and aluminium therefore saves you both time and worry.
That's why you should choose wood/aluminium rather than just wood
One of the biggest disadvantages of the raw wooden windows is how often they have to be painted. How often you have to paint your wooden windows depends a lot on the environment and can be anything between every 3 and 10 years. Are they south-facing, how much shade is there, is the house sheltered or on the coast? It is therefore incredibly difficult to give a concrete answer on how often you should paint windows, but you can easily test them yourself. 
The window or door should be painted if the paint:
Peels just the slightest 

Bubbles, edges or cracks 

Has lost its protective oil  

Looks faded and discoloured 
You can test point 3 with the old trick, where you rub your finger on the paint. If you get colour pigment on your finger, the protective oil has faded, and this is a sign that they should be painted. 
You should actually paint the window before the above points occur, and it can be really difficult to assess as a private person before it is too late. The big problems arise at the moment when weather is allowed to destroy the wood without the protective effect of the paint. When you have to paint windows, it is a huge project that you can either do yourself or hire someone to do. Either way, it's expensive - because time is money! 
We therefore ALWAYS recommend alu-clad windows because it always pays off and is undoubtedly the most value for money, even if the initial payment is higher. 
However, there are special cases where we can understand the desire for clean wood. You may have a small, cosy wooden summer house and would like the windows and doors to be made of pure wood. It can be cultural, historical, a family tradition or neighbourhood tradition. We understand that, of course, and you just have to be aware of what it means and what you lose by opting out of wood/aluminium. Unfortunately, not everyone knows this today, or not all consumers receive the right guidance.  
FAQ about wood + aluminium windows
Here you'll find answers to commonly asked questions. If you have any other questions, feel free to contact our customer support.
As our aluminium cladding is powder-coated, you cannot basically paint it yourself. However, they can get a new round of powder coating. You can paint the interior wood trim.
Our aluminium-clad windows can only be painted on the inside where there is a wooden covering. Here is a quick guide for just that:
Scrape paint off 

Sand afterwards with sandpaper so that the paint can adhere

Remove dust and residues

Wash the wood first with a suitable detergent and then with clean water

Cover exposed areas with masking tape

Prime the wood where the paint has been sanded off completely and if you touch the paint, remember to wipe it off

Wait for the oil to dry

Paint the window 

Paint 2nd and possibly 3rd time for a nice appearance 
Even though maintenance is minimised, your windows and doors still need to be maintained with annual lubrication of all hinges and movable fittings to ensure that the products function smoothly throughout the life of the element. 
As a starting point, the wooden/aluminium window is almost maintenance-free. But the ravages of time hurt everything. Here you can try to polish it with scratch-free car wax on the outside.
The outer frame and frame can be cleaned quickly and easily using lukewarm water mixed with a little washing-up liquid and a cloth or soft brush.
See more about washing windows here.
The internal wooden parts are also easily kept clean using a gentle cleaning material, followed by wiping with a wrung-out, clean cloth. In addition, which applies to all types of windows and doors, the hinges must be lubricated as needed.
It is quite simple to sealing a wooden/aluminium window. You just have to remember that the joint must be placed on the wooden part and never on the aluminium strips.
If you have your hands fairly tightly screwed on, you should be able to install your window yourself. Read our guide to installation of windows right here. 
Aluminium is virtually non-rusting.
As mentioned earlier in our guide, it is possible to polish the aluminium frames on the window if you really want to treat your windows with extra care. 
We offer a ten-year guarantee on our windows - but if you maintain your wooden/aluminium window, it should last much longer.
If there has been an accident and the profiles have been damaged - the aluminium profiles can be removed so that you can insert a new pane. All aluminium profiles for windows and doors are powder-coated, giving the profiles an exceptionally hard-wearing surface that lasts many years. Should the surface become dull due to weathering, the powder-coated aluminium profiles can be quickly polished again as if they were a car. In other words, wood/aluminium can stay nice for a lifetime with the proper treatment.
People in the industry always choose wood/aluminium. Anything else is simply not worth it. You have to really enjoy painting and making the windows look nice very often, or have an absolutely huge love of pure wood if you don't choose wood/aluminium.
Find your favourite aluclad products
Upgrade your home with long-lasting windows and doors.
Welcome 👋 what can we help you with?
We're here to help you!
Buying new windows and doors can seem complex, we're here to make it easy. If you have any questions – then please ask us!