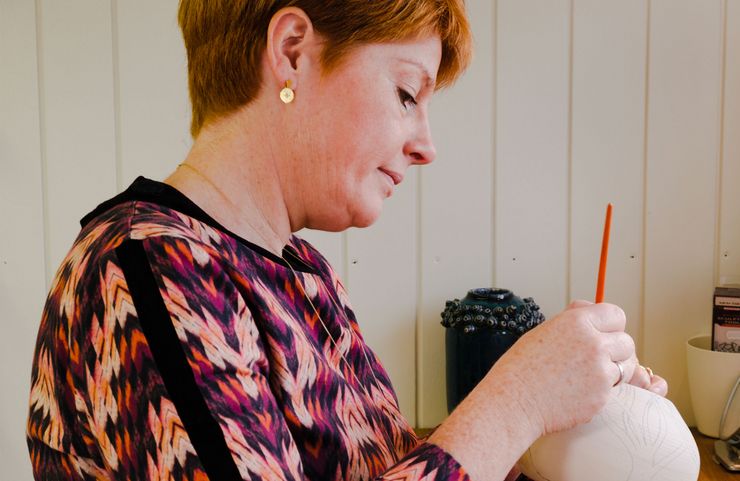 Lisbeth made her dreams come true with a new ceramics workshop
Table of content
Lisbeth has made ceramics for 7 years and has for the past years dreamt of her own workshop. That dream has now come true and Lisbeth shares her experiences below.
Maybe you dream of a workshop, where you can be creative with your hobby? Get inspired here and be one step closer to achieving your dream.
The building where Lisbeth has her ceramics workshop used to be an aged and closed garage. In order to get her dream workshop, the garage was transformed into a modern and bright room.
Windows and doors are an easy way of opening up a room, which Lisbeth has experienced:
"What I like the most about the windows, is that they are so large. So much light comes in."
Lisbeth has chosen a Fixed Window and French Doors with sidelights on both sides. These French Doors can be opened up 180 degrees, which together with the window, creates an open environment with a lot of natural light coming in.
Lisbeth lives in the countryside and is surrounded by nature with fields, cows, and forests. Nature is a huge inspiration for her, and she loves being able to open the doors and bring nature inside.
"It's such a pleasure being able to open both doors on a hot summer day. It has completely opened up to nature."
It's not only the door's and window's functionality, that has made a difference for Lisbeth. The door fits the current style of the house, which is fitted with Cottage Windows. It's a classic choice for a house in the countryside. 
Do you want to fulfil your home dreams? Maybe you want a workshop for your hobbies or you just want to be closer to nature?
No matter what your dreams are, we can help you with new doors and windows, that can create an open and bright environment in your home - just like it did for Lisbeth.