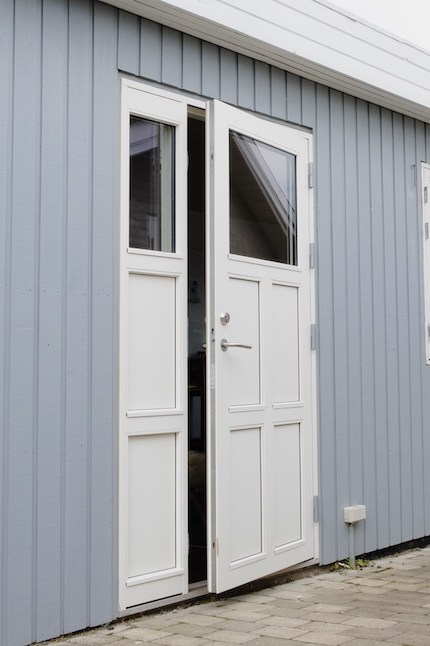 A Homeowner's Handy Front Door Maintenance Guide
Table of content
Most of us probably pass in and out of our front doors multiple times a day without giving it a second thought. We simply expect it to function flawlessly and likely think it will last forever. While 'forever' is a long time, there are important steps you can and should take as a homeowner to improve the life expectancy of your front door. 
Step-by-step guide to front door maintenance
This front door maintenance guide will take you through the tasks we recommend to ensure optimal performance and durability of one of your home's most marked features.
Though the list of spots to clean in your home is probably long enough, we regret to inform you that you'll need to add one more. All front doors, regardless of material, will benefit from a regular cleaning. 
This should include first dusting off its surface, as dust can contain salt, a corrosive agent, as well as other particles with the potential to scratch and deteriorate its protective coating. Use a common dust brush or dry rag for this weekly task.
Once a month, a front door should be wiped down with a non-abrasive sponge or cloth and a solution of water and mild dish soap. This will also help remove any damaging dirt from its surface and allow you to complete the next all-important step more effectively.
If your door includes glazing, the glass surfaces should be sprayed with a mixture of vinegar and water and thoroughly dried off as part of your cleaning routine.
When your front door is clean, you will easily be able to check all six of its sides for signs of wear and address any needs for repair. We recommend you pay attention to each of these areas:
Paint/varnish coating – look for flaking, chipped, peeling, dull or fading paint, splinters, bare wood spots, raised wood grain or cracks in the topcoat.

Door seals and framing – check for draughts in weatherstripping, peeling or cracking caulk seals, and any cracks or warping in the framing.

Hinges, Handles and Locking Hardware – inspect for rust spots, squeaks and sticking and ensure all screws are tight.

Glazing – examine windows for any signs of condensation or moisture build up between panes or around framing.
Depending on what your monthly inspection reveals, you may need to take additional steps to remedy any issues, as well as perform regular maintenance on certain parts. 
A dull finish on a wood door can be brightened up with a quick polish, using a polyurethane, varnish, wax-based or lacquer polish. Any failing weatherstripping and caulking should be reapplied to ensure a solid seal.
Rusty screws should be replaced with galvanised ones rated for exterior use. Locks and hinges need to be lubricated once a year with a dry PTFE spray or non-petroleum Houdini product. While the more commonly known WD-40 can be used, it tends to attract dust and dirt and dry out the area, sometimes resulting in stiffer movement
For tips on how to address maintenance needs of the windows in your front door, see our complete window maintenance guide here
When it comes to surface finishes, an oiled wood door will typically require reapplication every six months to a year, while a lacquered one lasts longer, and a painted surface typically holds up for between five to 15 years.  
Of course, if you notice any of the tell-tale signs of topcoat wear and tear mentioned above, you will want to act immediately and restore your front door as follows:
Take the door off its hinges

Remove all hardware

Strip the old finish using a chemical stripper

Prep by sanding the surface, removing any imperfections

Wipe the door down to remove all dust

Use a rust inhibitor in any prone areas

Apply two to three coats of exterior finish

Consider adding a UV-protective sealant to the paint/stain
If your home has a front door you've inherited from previous owners that is showing its age, or yours has simply come to the end of its life, it may be time to consider a full replacement. Similarly, if the glazing in your front door is failing, you will want to prioritise replacing the windows.
For inspiration and advice on what front door to select, see Klar's buyer's guide on external doors here. As you will read, choosing a composite external door, consisting of a solid wood door clad in aluminium, will help minimise the amount of front door maintenance required in the future.
In addition, adding an overhang or front porch that extends at least 1,5 metres out over your new front door is a measure you can take to help protect it against the harsh elements over the long term.
FAQs
How do I make my front door shine again?
If the finish on your front door has dulled, it's a relatively quick job to gently apply a polyurethane, varnish, wax-based or lacquer polish with a rag. If this doesn't do the trick, you may need to take on the more time-consuming task of refinishing your front door. Or maybe it's time to replace it entirely?
How do you maintain a front door?
The five key steps to maintaining your front door are regular cleaning, inspection for problem spots, repair of any issues, restoring its finish, and replacement if necessary, including windows. Check out Klar's wide variety of top-of-the-line doors and windows.
How often should you oil your front door?
An oiled wood door will typically need a reapplication every 6 months to a year, depending on whether it is in a covered location, whether it is south facing (subject to more sun damage), and whether it is exposed to sea air or harsh winter weather.
How do I protect my door from sun damage?
To protect your front door from sun damage, consider adding a 1,5-metre canopy or overhang over your door to shield it from the strong UV rays. You can also add a UV-protective sealant over top of your door's paint or stain finish.