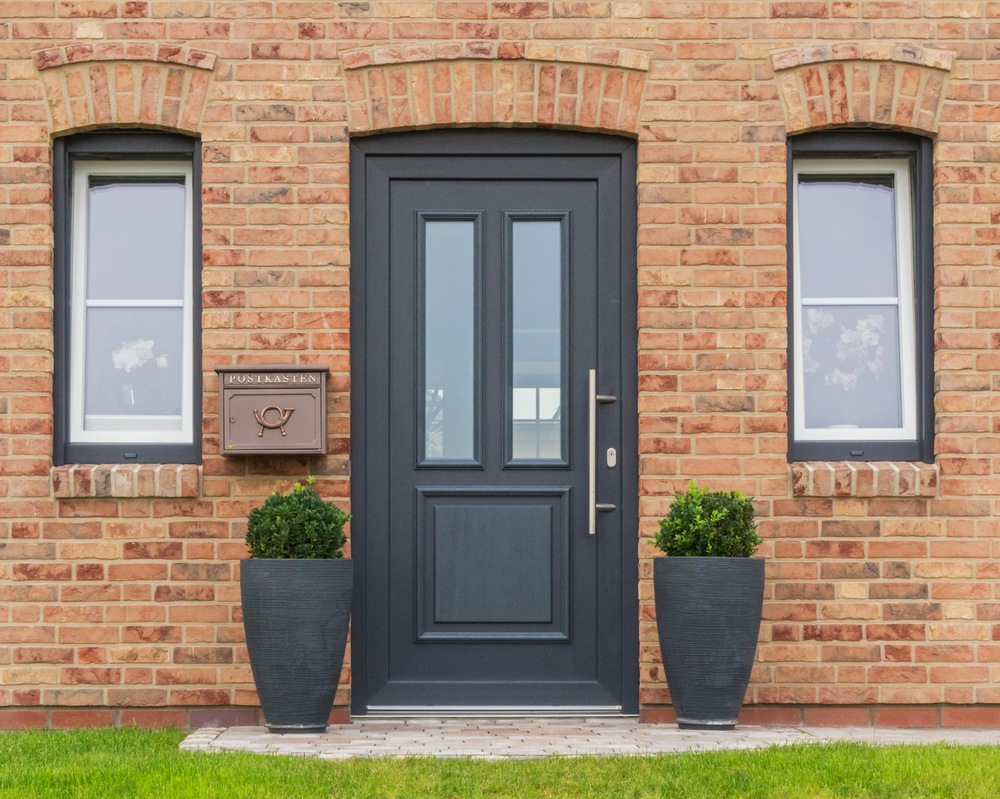 What are Composite Doors?
Table of content
We understand what an important purchase a new door is. At Klar, we keep our customers and their families in focus and reflect upon your needs and desires when it comes to high-quality doors and windows.
Doors serve as the gateway to your home as well as protection for your family and all your precious belongings. Composite doors are a very popular choice for many homeowners since they are durable, solid and robust. But first thing's first, let's talk a little bit about the definition – just what are composite doors? 
They are – just as the name suggests – "composite," meaning made up of several different components. So, composite doors are ones constructed from several different materials, as opposed to doors that are constructed of just solid wood, for example. There are many types of composite doors available on the market, made from materials such as wood, insulating foam, aluminium, hard-density fibreboard (HDF), Glass reinforced plastic (GRP), or PVC. To brush up on some basic lingo, see our Window and Door Terminology blog.
The Pros and Cons of Composite Doors
Now that you have a better idea about what composite doors are, it's time to find out more about their positive and negative aspects. Let's take a closer look at the pluses and minuses.
| PROS | CONS |
| --- | --- |
| Durability | Higher cost |
| Low-Maintenance | |
Composite doors are a sturdy, reliable choice when it comes to choosing a door. The two main benefits are that they are highly durable and do not require much maintenance. Composite doors are safe, solid and will weather well without needing much repair or looking after – no more than some minor lubing of hinges every now and then. 
The positives generally outweigh the negatives when it comes to composite doors, since they last a long time and are premium products. The higher up-front price for this high-quality product will likely pay off over the years of enjoyment, but you do need to be prepared for the initial investment cost. 
High-Quality Composite Doors
Although composite doors may cost significantly more than other types, they are generally of superior quality and offer excellent strength due to the nature of their materials. As an example of some of the main selling points of composite doors, take a look at the following features of Klar's products:
• Durable & strong  - the anti-moisture HDF (High-density fiberboard) adds sturdiness
• Secure – includes a free security package with a 3-point locking system
• Energy efficient – the extra insulation makes for excellent performance
• Low maintenance – the HDF is resistant to weather damage and dents
• Customisable – on our user-friendly platform, you can choose exactly what you want
In light of all of these great features, what's not to like? The high-quality does make for a considerable investment, as mentioned. If you are interested in an option that is a bit more budget-friendly, you might want to take a look at some more affordable alternatives and our guide, Composite doors vs. Alu-clad doors: Which is better?
What are Composite Doors' Primary Materials? 
Composite doors are constructed of a combination of materials, with HDF being a durable and strong addition. HDF stands for "high density fibreboard," and is one of the materials we use in our doors at Klar. 
According to the UK government's guidance on wood classification, fibreboard is made from wood and other wood-like materials that are bonded with resin or other organic substances. Fibreboard can have a high, medium or low density, and HDF has a density of 0.8g per cm2, with 2 hard surfaces.
Besides hardboard (HDF), Klar includes insulation and aluminium in the construction of its composite doors, with a wooden door frame, offering customers the benefits of all these premium material types. 
Customisable Options
At Klar, we believe that it is important for you to feel comfortable and happy at home. That's why we take great pains to provide a range of customisable options for all of our products – from windows to composite doors. 
Our user-friendly platform shows clear images and descriptions, making it a cinch to select the door that's ideal for your preferences and needs. One you have chosen the style of composite door you want, you can go on to select the following specifications:
• Dimensions – width 70-110 cm and height 175-230 cm
• Colour – white, anthracite grey, or black
• Opening direction – left or right outward or left or right inward
• Latch type – no handle or L-shape
• Lock – no cylinder, key/key cylinder, or key/thumb turn cylinder
• Glass – clear, kura, ornament or satinovo
FAQs
What are composite doors made of?
There are many types of materials used in the construction of composite doors, such as wood, insulating foam, aluminium, hard-density fibreboard (HDF), Glass reinforced plastic (GRP), or PVC. Klar makes its composite doors with a select combination of materials including hardboard (HDF), insulation and aluminium with a wooden door frame. 
Are composite doors worth the investment?
Modern composite doors are very energy efficient and have a long lifespan. Considering their superior durability, lack of maintenance costs and realised energy savings, the higher initial investment for a composite door is likely to pay off over the long run.  
How long do composite doors typically last?
The lifespan of a composite door can vary greatly, but you should expect it to last a minimum of 30 years.