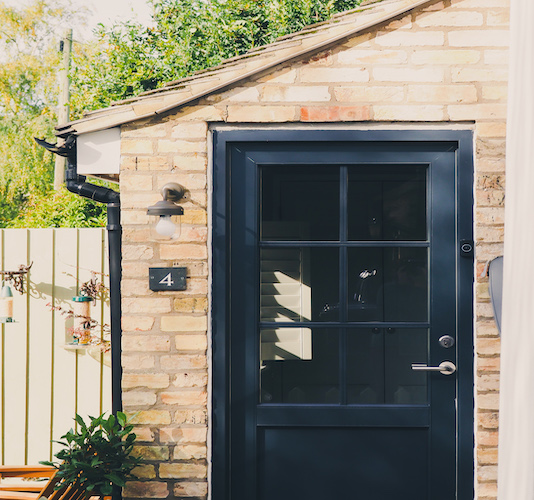 A Buyer's Guide for What External Doors to Buy
Table of content
Just as our eyes are said to be windows to the soul, so are a house's windows and doors a reflection of a home's spirit. The styles chosen can be in harmonious alignment with the rest of the architecture or can stand out as points of contrast to make a bold statement. An external door can add significant curb appeal as one of the most dominant features a passer-by will notice.
Not only do external doors add aesthetic appeal, they can also provide a layer of security to your home that ensures you and your family feel safe. Additionally, they ought to offer superior insulating properties, making your home as energy efficient as possible.
When considering what external doors to buy, you will want to take all of these elements into account and understand your priorities and constraints.
Styles of External Doors
When it comes to exterior house aesthetics, the style of door you select will have a big impact. There are five common styles that have various uses:
Single panel

French door

Single or double patio door

Sliding door

Bi-fold door
Single panel
A single panel door is the most common front door you will see and may be all you have room for in your opening. However, if you have a wider entrance, you could consider adding sidelights to allow more natural light to enter than a single panel allows, or bumping up to French doors.
Double doors
These double doors typically open outwards, are an effective way of bringing in the outdoors, and are often used when fronting an inviting outdoor space. A double or single patio door provides a similar benefit, but can only be opened from the inside, so offers greater security. But of course are harder to use as front doors!
Sliding and bi-fold doors
In larger external openings, a sliding door can be used when space doesn't allow for swinging doors. The drawback with this style is that typically only one of the panes will open. 
The answer to this shortcoming is a bi-fold door, which can be opened fully, allowing for maximum air flow and light. This style requires the largest amount of space – both a wide wall opening as well as room for the panels to stack upon themselves.
Klar currently doesn't offer the above solutions. But if you're looking for a grand opening, why not check out our doors with sidelights?
Also read what style of patio door to choose.
External Door Materials
Another important consideration in looking for what external doors to buy is the type of material used in its construction. Not only will this have an effect on the aesthetic of your home, but it will also contribute to its level of security and energy efficiency. Looking for an upgrade? Read about when to replace a door.
Solid Wood 
The traditional choice with a distinctive, high-quality appearance.

Can be stained or painted any colour, and easily sanded or cut down to size. 

Heaviest and most expensive option, requiring regular maintenance to ensure durability.
Composite
Often made from a hardwood core with external aluminium cladding.

Offers greater weather resistance with less maintenance required.

Enhanced thermal and sound-proofing capabilities with multiple layers of material.
uPVC
Made from unplasticized polyvinyl chloride, a recyclable plastic building material.

Inexpensive option with very low maintenance requirements.

Water resistant and lightweight and can be more secure than wood.

Only available in limited colour finishes and can look 'cheap.'
Aluminium
Another lightweight, low maintenance option for a contemporary look.

Offers excellent thermal efficiency and durability.

On the more expensive end of the price scale.
Level of Glazing and Hardware Quality
Just like the style and material of an external door, the number and quality of windows will also affect its aesthetic, security and energy efficiency. The amount of natural light you decide to let in through an external door will have an impact on your home's exterior appearance as well as the feeling inside. 
The placement of the windows can either add or detract from the privacy you experience. Windows vary greatly in quality and features, so ensuring your external door has double or triple glazing, like those available at Klar, will ensure maximum security and minimum heat loss.
A critical part of an external door's security is naturally its handle and lock mechanism. Strong steel hardware, cylinder locks and a mortice deadbolt are things to look for. For more on how to secure doors, read Klar's tips here.
A new external door setup should also include an effective draught-proofing system, which can save an average household in the UK £60 a year, according to the Energy Saving Trust
Once you have made your personal assessment of what external doors to buy, you may be surprised to find out that you can even measure, order and install your new doors yourself. Read Klar's comprehensive guide to DIY window and door installation here for inspiration.
FAQs
What is the most popular style and colour for front doors?
The most common style of front door in the UK is a panel model, which enjoys solid popularity, much like casement windows. Adding glass to the front door is a growing trend to let in more natural light. Grey is the number one colour searched for front doors in the UK for the past five years, followed by the other neutrals, black and white.
What type of exterior door is best?
There is no 'best' exterior door to recommend, but one can generally say that an external door in the style that best suits your opening, made from composite materials, with high-quality double-glazed windows and superior security hardware will be an excellent choice.
What type of door lasts the longest?
The longest lasting door on the market is most likely to be one made from aluminium or alu-clad wood, with a forecasted life expectancy of upwards of 45 years.