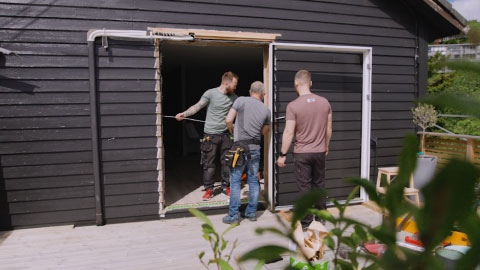 When to Replace a Door
Table of content
Too creaky, squeaky and worn out or just looking for a new décor? There are a number of factors to examine when considering when to replace a door. It is totally up to you if you want to change the door for an upgraded aesthetic – perhaps you want a new style for your home or the door works fine but looks a bit weathered. However, if your door is not working the way it should, there are several functional features that are worth taking a closer look at. 
For starters, your door might be damaged in some way. Perhaps it doesn't open and close easily or the lock is tricky, or there are gaps around the frame and you have noticed draughts and higher energy bills. High-quality doors can last for many years – it is advisable to purchase a door from a trusted brand that offers buyer protection and support over an extended period of time, like the 10 Year warranty that Klar offers.
For some inspiring, relevant trivia, did you know that Britain's oldest door in Westminster Abbey is nearly one thousand years old? It is a fun fact to keep in mind if you are thinking about when to replace a door and when to make a purchase of a new door that can last a significant number of years.
One, two, buckle your shoe – three, four, shut the door
Doors are significant constructions that offer portals into our homes. Along with being an entrance, they provide safety and security, style, and help keep the inside environment comfortable and at a favourable temperature. So what to do when your door isn't working the way it should? Let's look at some common malfunctions that are likely to lead you to consider when to replace a door.
Difficult to open and close
Does your door stick and jam, and does it feel like it takes a bit too much muscle to simply open it? Or perhaps you have the opposite problem, and you have to slam it extra hard for it to close. There are a number of reasons for doors to have problems opening and closing, including warped or weathered materials, a shifting foundation, improper installation, or even just a build up of dirt and debris. If a door in your home is not opening and closing as it should, it is a good idea to first assess what the problem is if you are in doubt about when to replace a door. Depending on the underlying cause, it might be repairable – and if you still aren't sure, feel free to contact Klar's expert team.
The lock doesn't work smoothly
Similar to a door that won't open and shut properly, a lock that is tricky can also have a number of related issues. For example, it might not fit well in the fitting, it could be dirty, or a host of other reasons. You might only need to replace the lock, or if you have been considering when to replace a door, this might just be the final kicker. The official UK government building regulations highlight the importance of a multipoint lock system on the main doors to a residence including specific recommendations.
Having a lock that works well is essential to maintain the safety and security of your home, and it also gives priceless peace of mind. Knowing how important it is to have sturdy locks that you can always depend on, Klar has made a partnership with ASSA ABLOY, who presides among the finest lock makers and a global leader in access solutions.
There's extra space between the door and the frame
Have you been noticing draughts coming from under your door in your home? Although this might be repairable with a bit of weather-stripping it could also be a more serious problem. If it is not a quick fix, then it very well might have you thinking about when to replace a door. Extra space between the door and its frame can be caused by a variety of factors – some of which are easily repairable while others might call for a door replacement. One common reason for extra space between the door and its frame is from warping and weathering – for a more resilient option, you might consider purchasing a composite door. If you want to find out more about the difference between this type and composite doors, check out our guide, Composite doors vs. Alu-clad doors: Which is better?.
Your door is not energy-efficient
Older doors might not meet the energy-efficiency requirements that newer models adhere to. Dealing with a non-energy efficient door is an excellent motivation for considering when to replace a door. Doors tend to be less energy-efficient if they are old and worn out, if they haven't been properly installed, insulated, fitted or sealed. The materials and construction also contribute to the insulating properties. And if your heating bills are higher than you would like them to be, it might just be time to replace your doors. If you have been considering when to replace a door and have come to the conclusion to go ahead and invest in a new one, then here's a guide you will most likely be interested in: New Front Door Cost: How to Choose the Best Affordable Front Doors.
FAQ
If I fix the gaps around my door frame, will it be energy-efficient?
You will most likely be able to stop draughts and improve insulation, but whether or not a door is rated as energy-efficient by the BFRC (British Fenestration Rating Council) depends on its energy performance.
How long does it typically take to replace a door without professional help?
If you've decided to go the DIY route, you'll be happy to know that replacing a door is a manageable project that you can typically complete within a day, in as little as a few hours.
How much do composite doors cost?
Composite doors are a luxury choice with a higher price range. You can expect to pay a minimum of around £1,000.