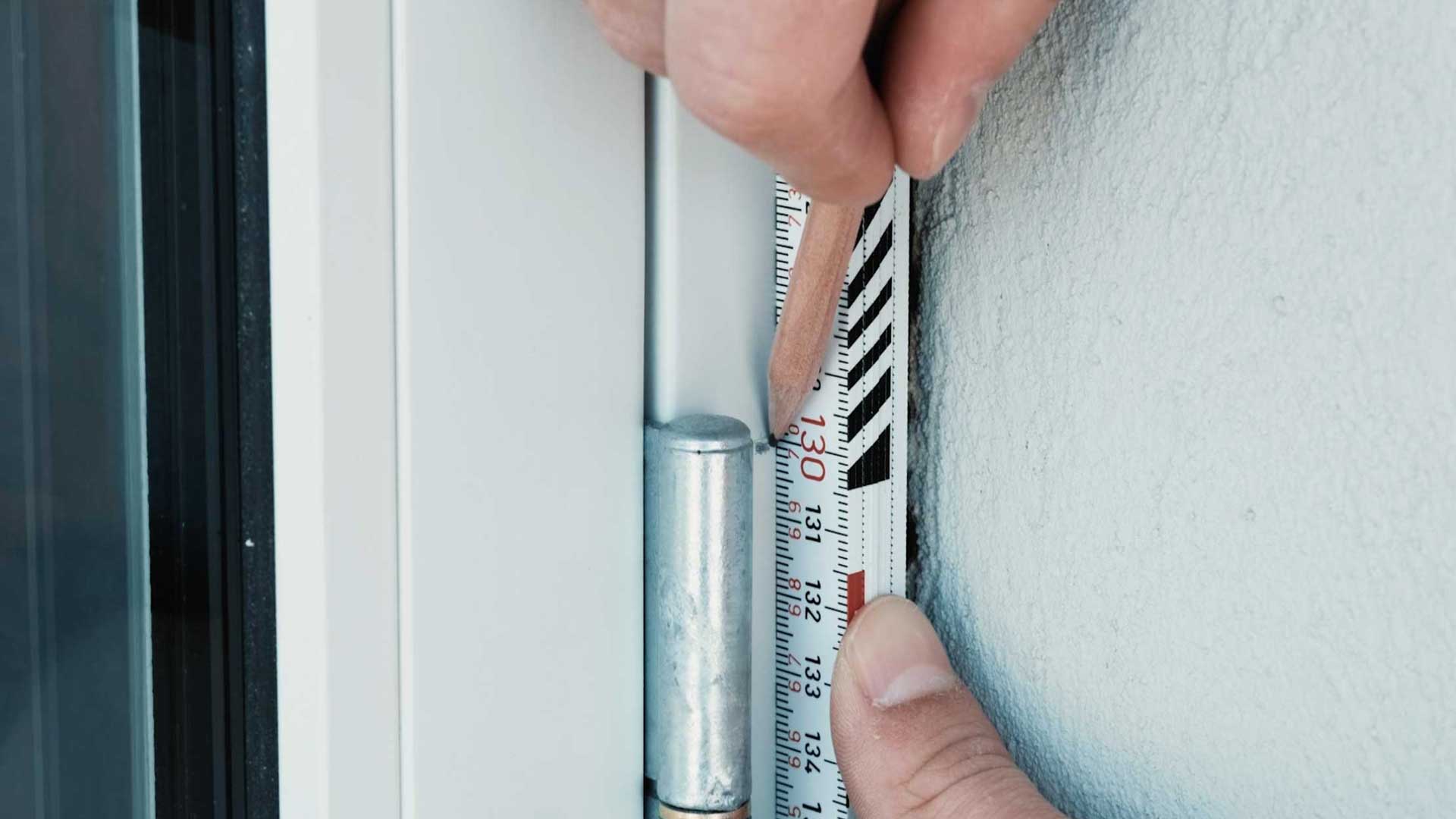 It's easy to measure windows → Here's how!
How to measure for windows
It's a great feeling to be involved as much as possible when building and/or renovating your home.
In fact, you can go a long way by measuring windows and doors yourself, because it makes it easier to choose the window type and door if you can do this yourself.
The video shows measuring a brick house.
For example, do you need to have windows according to standard dimensions or should they be bespoke, made for your house? Either way, we can help as we manufacture all products bespoke to your specifications and deliver directly from the factory home to your home.
Measured already? Go to our installation guide >
Video guide to measuring for windows
How to measure for new doors and windows - step by step
Before you start, have the following ready: paper and pencil, a tape measure and possibly a spirit level if it is an older house. 
Grab your paper and pencil and measuring tool

Always measure from the outside. Start with the width, then the height.

Measure more than one place from brick to brick. The opening in the wall might be slightly skewed, which is why you should use the smallest measurement.

Now you have the hole measurements. To find the frame dimensions, subtract 2.5 cm from the hole measurements. This leaves a gap of around 1.25 cm in each side for sealing and insulation.

Use the frame dimensions/measurements to order your Klar windows.
What's the difference between hole measurements and frame measurements?
Hole measurements are the measurements from brick to brick. Conversely, the frame dimensions are the measurements of the particular door or window element. You should always start with the hole measurements because you need space for insulation. The difference between hole and frame dimensions are approximately 2.5 cm in each dimension.
Facadetype
To get the right measurements, please check the facade of the house. A wooden facade often has a sheating that covers part of your existing window and are simple to dismantle to get the outer measurements of your frame.
Additional tips
More tips for measurements
Always measure from the outside and always start with the width first, then continue with the height! Regardless of whether it's windows or doors.
Measure from brick to brick. Remember to measure several places as the opening may well be slightly skewed. If the results differ, use the smallest measurement.
Subtract 2.5 cm from the hole dimensions and you will have the frame dimensions you need to order your items. It leaves a gap all the way around of approx. 1.25 cm for sealing.
When you measure windows, pay attention to the interior conditions. Whether you choose wood or alu-clad frames and double or triple glazing might have an effect on the internal finishing. Check out our window selection and read more about different types.
When you measure doors, pay special attention to the interior conditions and consider especially if the door should be with inward or outward opening. Check out our door selection and read more about the component specifications.
As standard a 18 mm timber cill packer will be selected in the window configurator so you can fit your aluminium cill pressing onto that. You can choose not to have the cill packer fitted. Learn more about cills for Scandinavian windows and which other options you have.
Do you any other questions?
When ordering Klar windows and doors we: 
✓ Guarantee that your new windows and doors will be manufactured to your bespoke specifications.
✓ Provide professional technical advice and answer all your questions to match your needs with correct products.
✓ Make sure that your renovation process will be in accordance with Building Regulation requirements.